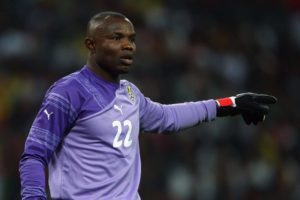 Ex-Ghana goalkeeper Richard Kingston has apologized to his former international teammate Manuel Junior Agogo for refusing to check on him since he got diagnosed with stroke last year.
Agogo revealed on a BBC documentary 'Speechless' that he was no longer in touch with his former international teammates since he suffered the stroke.
Agogo, 38, emerged poster boy of the Ghana squad during the 2008 Africa Cup of Nations on home soil.
Speaking for the first time after the stroke, Agogo in a BBC documentary published on Sunday, said the stroke left him lacking confidence, and he feels socially isolated.
"Sometimes when you have friends from the beginning and they betray you like this it's very painful so I understand him," Kingston told Ghanaweb.com
"I'll like to apologize on behalf of some of the players who couldn't reach out to Junior Agogo and his family that maybe we have neglected him at this point but all the same I believe that we are in spirit with him so we wish him speedy recovery."
Source: ghanasoccernet.com