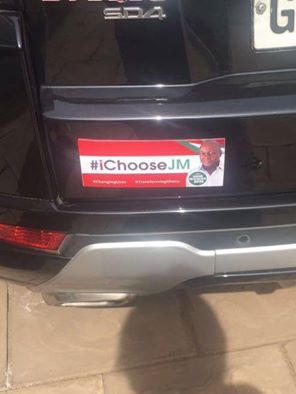 The 2016 elections are rapidly approaching and to say that the politicking has commenced is an understatement.
And as we know, in politics, parties would do all they can to get a leg up on their opponents, especially in this our corrupt system where the opportunity to loot the resources of this nation is what's at stake.
So upon all the tribal and religiously motivated divisive politics we've heard, the campaign season is just warming up, and we are set to hear more disgusting things before election day.
According to some reports we are receiving here at GC, the NDC, or at least their surrogates, are going around plastering people's cars with NDC stickers without the knowledge of the owners.
One person who wrote in to inform GhanaCelebrities.Com editor Chris-Vincent Agyapong Febiri said this happened to them whilst returning home from attending the VGMA's last night.
At this moment it's just a few reports and although it sounds suspicious, we hope it's not a trend being established, because that would be yet another level of despicable politics.
Read the account GhanaCelebrities.Com editor Chris-Vincent Agyapong Febiri gave of the issue- and share any similar instances of dirty politics with us.
Things are starting to get interesting…
WTF: Apparently NDC is Going About Posting Mahama's Stickers on People's Cars Without Permission.

A good friend of mine just told me about what happened to her friend—this seems credible since there's no reason for them to lie about it.

So this person says he went for the VGMA last night at the Conference Centre and later found this JM sticker placed on his car.

Of course he has now removed it but it left a mark on there and he also drove around town with it today to church without knowing.

It was later he found out…

Look; if this is indeed happening—then whoever is doing that must be a big loser. What kind of desperation too is this?

It surely wouldn't be a bunch of children who went around doing this and I am also sure no reasonable NDC individual will authorise this. But someone seems to be out there doing this and it's not cool at all!

Ah Aba!

This is one of the reasons why politics in Ghana remains unattractive to a lot of sensible people.

That can amount to criminal damage, especially the sticker damaging the person's car paint when he removed it!
Source: Ghanacelebrities.com