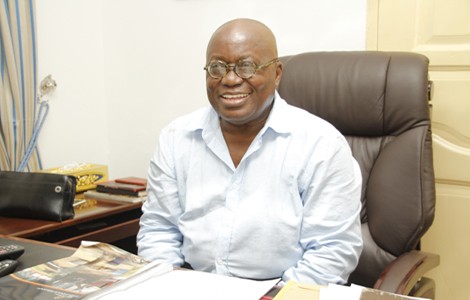 The 2016 presidential candidate of the New Patriotic Party, Nana Addo Dankwa Akufo-Addo, is assuring Ghanaians that a vote for him in this year's elections will mean a complete departure from "the failed policies" of the Mahama government.
Nana Addo opined Mahama and his appointees have brought untold hardships and suffering to the Ghanaian people.
"My approach is going to be different from that of John Mahama. It is not going to be tax, borrow and spend. My priority will be to reduce the cost of doing business to help small scale enterprises grow, and to make the Ghanaian economy become globally competitive," he said.
To this end, the NPP flagbearer has stressed that his government will provide tax incentives to businesses across the country so as to increase their productivity.
"We are opposed to government measures that cripple businesses and cause unemployment. My intention is to reduce corporate tax rate, abolish VAT on Financial Services, remove duties on the importation of raw materials and manufacturing equipment, amongst other fiscal incentives, to stimulate growth of the private sector," he indicated.
Nana Akufo-Addo was speaking at a fundraising dinner in London, organised by the UK branch of the Young Executive Forum of the NPP.
According to the NPP flagbearer, despite all the desperate spins the Mahama government is putting on its period in office, "we know that Ghana is not in a good place. We have an opportunity this year, in peace and dignity, to put her in a better place."
Citing the nation's declining growth in agriculture, which according to the 2016 budget was 0.04% in 2015, he noted that for all the protestations of government apologists, Ghana is importing plantain and onions from neigbouring countries, daring those who do not believe him to go to Techiman, Sunyani and Kumasi markets, amongst others, to find out the truth for themselves.
"When Kufuor left office in 2009, the food import bill of Ghana was $600 million. Today, it is $1.5 billion. Our industry is in decline, growing at 9%, whereas it was growing by 15% in Kufuor's last year in office. Manufacturing is at -2% growth, mining is -3.8% growth. Bank lending rates are 33% and above in Ghana. Inflation, as at April 2016, is at 18.7%. Unemployment is rampant and widespread," he said.
Continuing, he indicated that "business failures are unheralded. Electricity tariffs are beyond the ordinary household budget and destroying many businesses. Cost of living is astronomically high for the ordinary Ghanaian. Our people are having a difficult time, as their living conditions continue to deteriorate. All this is a direct result of the mismanagement, incompetence and corruption of the Mahama government."
More confusion in government
With the Minister for Finance, Seth Terkper, and President John Mahama issued conflicting directives on the taxation of allowances and pensions, Nana Akufo-Addo stated that the recent events surrounding the commissioning of the Komenda Sugar Factory is enough testament of how Ghana is being run to the ground by a clueless government.
The NPP flagbearer recounted how last week, amidst great fanfare, the President commissioned the Komenda Sugar Factory, "with very lofty objectives, including treading in the footsteps of the legendary Kwame Nkrumah", only for Central Regional Minister, Kweku Ricketts Hagan, two days later, to announce that the factory had been closed down for maintenance, in order for the factory to operate properly.
Again, five days later, on 7th June, the Director of Communications of the Trade Ministry, Nana Akrasi-Sarpong, rejected reports that the facility was shut down two days after it was commissioned by President Mahama, going on to assure that a producer price of GH¢90 per ton of sugarcane had been agreed with the farmers.
"Two days later, on the 9th of June, the Minister for Trade and Industry himself, Dr. Ekow Spio Garbrah, absolved management of the Komenda Sugar Factory of any blame in the quick shutdown of the facility. He said the shutdown is due to difficulties in access to direct power from the Electricity Company of Ghana (ECG)."
This is the way, Akufo-Addo said, our country is being run today.
Citing the excellent analysis of the project done by former Trade Minister, Alan Kyerematen, Nana Akufo-Addo indicated that this is ample testimony that the NPP has "the men and women who are capable of running and giving this country a 1st class government. It's time to put Ghana to work. This is the reason why there is this widespread demand for change today."
The NPP, he said, "is the most effective instrument for democratic change and I want all, inside and outside the NPP, all who are desirous of change, to come on the broad backs of the elephant and help push the elephant into Jubilee House. All of us, together, can put our country into a better place."
Source: http://nanaakufoaddo.org/