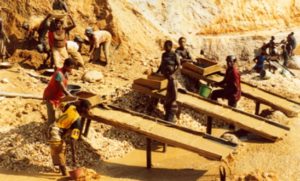 Personnel of the anti-illegal mining taskforce, Operation Vanguard in the Western Region, have arrested eight supposed illegal miners, also known as 'galamseyers,' for purportedly mining in the River Ankobra in the Nzema East Municipality of the region.
The eight were arrested last Friday in a swoop conducted by the anti- galamsey taskforce.
The taskforce carried out the exercise on the river after it was detected that the colour of the water body had not improved despite the ban on all forms of small-scale mining in water bodies.
The Nzema East Municipal Police Commander, Supt Philbert Zubaviel, who confirmed the arrest, pointed out that the suspects had been processed for court.
"They were arrested by the Operations Vanguard taskforce which was on their usual operations. They were brought to Axim Police Station, and we have subsequently processed them for court at Takoradi."
Supt Zubaviel pointed out that the yellowish colour of the river was a clear indication that the illegal miners were operating in the river.
"Actually, along the Ankobra River, I wouldn't say illegal mining has totally come to a halt because anytime you pass by the river you see the colour of the river and you suspect that people are still mining in it," he asserted.
He continued, "Exactly which point they are working is what we do not know."
According to the commander, they need the support of community members to ensure the success of the operations.
"It's the community members who live along the river that know where the illegal miners are.
"It's difficult for police officers to help because they are not mining along the roadside where we could see them in our patrols. We need the community members to give us credible information so the Marine Police Unit can help."
Meanwhile, the eight suspected illegal miners were hauled before a court in Takoradi on Monday and were granted bail to reappear on December 13, 2017.
Source: Daily Guide